Joctavis Phillips was on the roster all spring but mysteriously disappeared sometime in May. So that sucks for him, the team, and this countdown. Since there's no longer a number 70 on the roster, let's look at the rest of the offensive line.
Coach: Louie Addazio • Assistant Coach/Offensive Line
When it was announced that Coach Bobo was leaving, my hope was that Dave Johnson would get the opportunity to stay on the staff. Johnson was the perfect type of coach for CSU, someone who is used to working with under the radar athletes and molding them into a cohesive unit.
The idea of keeping Coach Johnson flew out the window when the Family Addazio rolled into town. Head Coach Steve Addazio is known for his work with the o-line, and he brought is son Louie in to oversee it. Louie is a young guy with brief experience at Ohio State as a graduate assistant and with Bowling Green as a tight ends coach.
My concerns about lack of experience went away after talking to him for five minutes. You can tell right away that the guy is born to coach and CSU might have found an up-and-comer for the staff. (It's also comforting to know that Old Man Adazzio will be nearby for quality control.)
Coming back:
Barry Wesley – Redshirt Junior
Where would we be without Barry Wesley? Thank god we found this guy as a walk-on. He can play multiple positions on the line and has plugged holes when we've needed him. He's probably the front-runner to start at LT but I think the line would be at it's best if someone else stepped up at LT and allowed Wesley to kick inside to guard.
Scott Brooks – Senior
Hard to believe Brooks is already a senior. They blew his redshirt in 2017 by playing in one game against Abilene Christian. What the hell was going on there? Brooks started each game last year and is a lock to start at center this year.
Keith Williams – Redshirt Senior
Williams worked his way into the starting lineup towards the end of last season and is the front runner for the RT job in 2020.
Ches Jackson – Redshirt Sophomore
Jackson was usually first off the bench when Jeff Taylor was injured last season. He ended up playing in 9 games and did pretty well for a redshirt freshman. I'm guessing one of the guard spots is his to lose.
Kavesz Sherard, Florian McCann, Alex Azusenis, John Blasco Jr
These guys all have redshirted at one point and haven't seen much playing time. I'm not going to pretend to have any analysis about them, but you gotta hope that someone in this groups develops into a contributor in the two deep.
Outta here:
Jeff Taylor – Graduated
Nouredin Nouili – Transferred to Nebraska (treason)
TJ Storment – Transferred to TCU (treason)
Those are the big three departures to know about. That's 3/5 of the starting offensive line gone.
Joctavis Phillips – No longer on roster
This one also hurts. At best Phillips wins a starting job, at worst Phillips is provides valuable depth for the interior of the line. Huge bummer that's he's gone.
Luis Lebron – Moving to d-line?
The official roster still lists Lebron at offensive line, but his number changed to 99 and he saw some time on defense in spring.
Kieran Firment – No longer on roster
Not sure what happened here either. Not in the transfer portal and his Twitter doesn't list any new teams. I remember being excited when we signed a guy whose last name sounds like "ferment".
New to Fort Collins:
Cam Reddy (Redshirt Junior) and Adam Korutz (Redshirt Senior)
Both of these guys come over from Boston College, so I'm sure they'll figure into the two-deep once September rolls around.
Brian Crespo, Gage Gaynor, Dirk Nelson, Tai Marks, Owen Snively –
All five of these guys are true freshman. They will be the first group to study under the tutelage of the Family Addazio. Could they end up being the core of the offensive line for years to come?
Who is the Wildcard of the group?
Korutz
Korutz is a senior on a grad-transfer, and I doubt he came to Colorado State without some assurances that he'll have a path to earn a lot of playing time. (I'm not saying he was guaranteed a spot, but the staff probably showed him a clear path to do so.)
If Korutz is starting caliber, the losses of Phillips and that traitor guy aren't as bad.
Here is a picture of Adam Korutz pointing at you: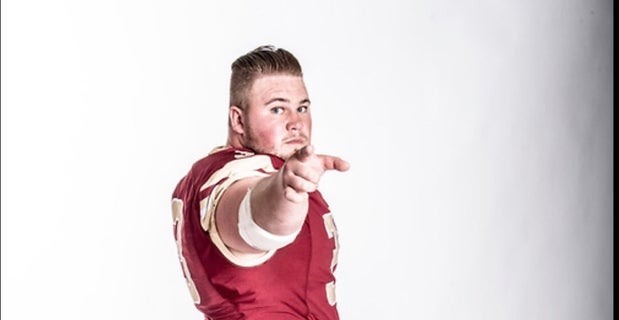 The AlwaysSonny Prediction for the Offensive Line
No wild predictions, I think I'm among the consensus when I see the lineup look like this, from left to right:
Wesley, Korutz, Brooks, Jackson, Williams
Beyond Wesley and Willams, I don't know what the plan is at OT. I predict this becomes a big issue if either go down. Can either of the Boston College guys play tackle? Is Blasco Jr finally ready to contribute? Can the TE transfer from Miami gain 50 pounds and slide over? Yikes, the more I look at this, the more concerned I get. Work your magic Family Addazio!